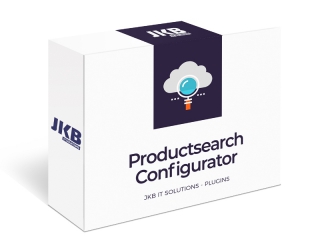 Shopware Productsearch Configurator
Shopware JKB Productsearch Configurator is a plugin from JKB IT Solutions that will help you quickly create an intuitive product configurator in your store. The plugin is easy to use and does not require programming knowledge – it can be configured literally by anyone!
The user selects features to be fulfilled at each step. As a result, they receive a list of articles that meet their requirements. In addition, the user can read the information about a given group of features that can help them make decisions in matching the best product for their needs.
Why is it worth having a configurator from JKB IT Solutions in your store?
Shopware JKB Productsearch Configurator is:
An individual approach to the store owner and customer,
Dedicated solution tailored to the assortment,
User-friendly and thoughtful interface,
Intuitive configuration support,
An appearance that you define yourself,
Easier and faster way to specify needs than correspond between the client and the consultant,
Saves time for customer service.
How does Shopware Productsearch Configurator work?
Shopware Productsearch Configurator has two modes: basic and advanced. In basic mode, simply select the category that will be available in the configurator. The user is always guided towards same path regardless of the choices.
The advanced mode allows you to configure different paths depending on the decision made by the user in the first step, so in addition, when setting the mode, select the first step of the configurator. Next steps appear accordingly to the set path.
In both modes, the configurator steps appear dynamically after selecting the previous one. The user can move back and change their decisions.
How do you configure the Shopware Productsearch Configurator plugin?
In order for the configurator to work properly, all products from a given category should have defined features that will be taken into account by the configurator. Otherwise, the product will not be displayed in final results.
In "Marketing / JKB Productsearch Configurator" we select groups of category features that will be treated as steps in the configurator. Then we set their order. In advanced mode, we set the order of steps in each path, depending on the decision made by the user in the first step.
How to add graphics and text to the configurator?
Step by Step Configurator downloads graphics defined in group properties (Items -> Properties). There are two additional fields in the group's properties: short text and long text. The short text appears in the right column of the configurator, and the long one beneath it. The texts are assigned to a specific step and change with it.
How to add a configurator to the store?
The configurator can be displayed wherever you want, e.g. on the category page. You can add the configurator as an element to an already existing shoppingworld or create a new one.