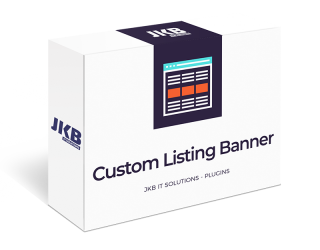 Shopware Custom Listing Banner
With JKB Custom Listing Banner plugin the list of your products will be more attractive. Plugin allows you to add a banner between products that has your own content. At this point, you can inform your clients about, for example, promotions, new products or free shipping. You set the content and its layout!
How does it work?
When editing the category page, select after which product your banner should appear. For the sake of legibility and page layout, we recommend that the banner appear after the product that ends a line. In this area you will find an html editor, which can be filled with text, links, photos, etc. You can also choose the shoppingworld to be displayed here. Shoppingworld is treated as superior. This means that if it is not assigned, the plugin will only display the content from the html editor. The banner appears only in one selected place, stretching over the entire width of the line. Height depends on the content.
What do you gain?
The product list is more attractive to the customer
Banner allows you to display information selected by you, e.g. about promotions, new products, free shipping, etc.